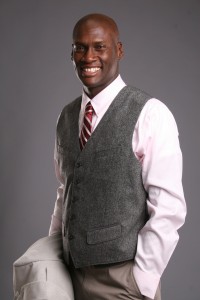 The technological demands placed on businesses are constantly increasing, spurred by the need to keep up in this digital age.
With more than 20 years experience in the information technology industry, technology entrepreneur Craig Brown, PhD has a passion and dedication to instructing clients in both technical and management capabilities that will sustain those demands. Dr. Brown's goal of mentoring – and offering advice that results in a more firm grasp of those technologies companies depend on – is being realized every day. His credentials and experience have propelled his career as a leading expert in the IT arena and a top venture capitalist.
Dr. Brown's extensive background in database administration, ERP Administration and more is backed by more than 25 certifications and a dual bachelor's degree in computer science and mechanical engineering. He has also earned a master's in business administration along with a Doctorate in Management Information Systems & Computer Information Systems. He has impressive expertise in database, applications and systems consulting services and strives to deliver robust and highly scalable, customized business solutions for small businesses and corporations. In addition to his extensive experience in database architecture and administration,  Dr. Brown possess experienced within the ERP and systems consulting services arena.
But even when he takes a little time away from business, Dr. Brown is just as dedicated to philanthropic efforts and awareness. It's critical to Dr. Brown to give back through community service and he serves through various organizations, including in his post as national vice president and Immediate Past President of BDPA the and as a Minority Biomedical Entrepreneurship Conference (MBEC) Steering Committee member. That service also extends to mentoring children and coaching youth sports.
Just for fun, Dr. Brown indulges his competitive streak with bowling, golfing and his adventurous side with sky diving, snowboarding, motorcycling and other motor sports. He considers himself a survivor and takes great pride in teaching his three children what he has learned. Dr. Brown lives in Houston, Texas.
Expertise
Dr. Craig Brown's expertise does not only lie in creating innovative best practices for IT clients. Dr. Brown's life experiences paired with his professional accomplishments make him an ideal trainer and speaker.  He is available for:
Mentorships
Keynotes
Speaking Engagements
IT Principle Industries Served Include:
e-Commerce
Healthcare
CRM
Manufacturing
Distribution
Biomedical Technology
Telecom
Real Estate
Travel
Supply Chain
Banking and Insurance